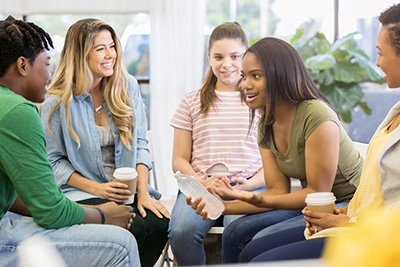 This group is for:
Adults and older teens (16+) with Eating Disorders (ED) or Disordered Eating who want to break free from control over their eating and live a healthy life.
Those who have recovered from an ED and now need continued support to maintain the progress they've made
Those who have begun showing signs of Disordered Eating and want to get their lives back on track before they require a higher level of care.
After the 6-week group you will have the tools to:
Identify the ways in which you've used your ED as a way to mask or deal with underlying issues.
Conceptualize a life where eating and exercise can be carried out in a healthy and balanced way.
Gain the ability to truly live life; one that is free from maladaptive coping skills.
Group Details:
Closed Six-week group, one hour per week for 6 consecutive weeks
Each week will cover a different topic including, but not limited to body image, social media and its effects on self-worth, coping skills, finding balance and moderation, challenging all-or-nothing thinking, emotion regulation, mindful eating and exercise.
Thursdays 6:30 – 7:20pm beginning March 28th
$180 for the full 6-week group
Payments plans available upon request
Led by Katie S. Frauenfelder, MA, PLPC, NASM CPT, eating disorder specialist at The Center for Mindfulness & CBT
Katie is offering FREE phone consultations to answer any questions you have about the group, and to help you decide if the group would be a good fit for you. Call her at 314-561-9757 ext. 703 or email her at Katie@mindfulstl.com today to schedule your consultation or ask any questions you have!
If you're ready to go ahead and register, click the button below to use our secure online registration.

Katie is leading another new group at The Center for Mindfulness & CBT for teens and young adults. Healthy Coping Skills for Teens & Young Adults starts March 28th and is enrolling now.