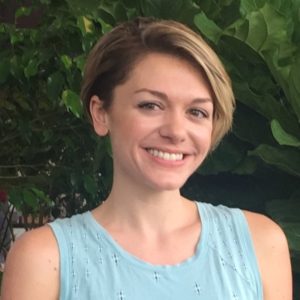 Hillary received a B.A. in sociology with an emphasis in psychology from the University of Illinois Urbana-Champaign and a Master's in Social Work from the George Warren Brown School of Social Work at Washington University in St. Louis.  As a palliative care social worker at Barnes Jewish Hospital, Hillary gained valuable experience supporting clients and families facing life limiting illnesses and coping with grief and loss in both inpatient and outpatient settings.
Many of her patients suffered severe anxiety.  She uses a combination of evidence-based techniques, such as Mindfulness and Cognitive Behavioral Therapy (CBT), as well as motivational interviewing and client-centered approach to combat such issues.
Hillary provides clients with a holistic framework to the therapeutic process and focuses on emphasizing client strengths and unconditional positive regard.  She strives to build a solid foundation for success by developing a therapeutic alliance with her clients.  Hillary is dedicated to being a culturally responsive therapist and has lots of experience working with a diverse client population across the life span.
Hillary recently completed training for Integrative Treatment for Complex Trauma-Adolescents.  She currently works as a middle school social worker at KIPP Inspire Academy, where she services counseling and social skills needs for adolescents with depression, anxiety, ADHD, ODD, and other challenges.
She welcomes children, adolescents, adults and couples dealing with adjustment to life challenges, as well as anxiety, OCD, depression, grief and loss.
Hillary has a sliding scale. To schedule an appointment call her directly at 314-561-9757 ext. 716 or email her.