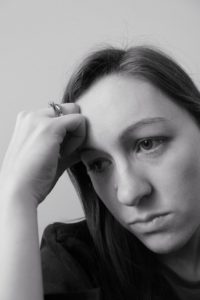 Living with an anxious child can be as hard on you as it is on your child. The never-ending questions, need for reassurance, things she can't do, trouble sleeping, and missed school wears on you day in and day out.  Nothing you've tried helps. Your life becomes narrower and narrower, and you feel embarrassed, guilty, and ashamed. How do you get out of this cycle? Take a deep breath, and then try each of the following five strategies in order.
Manage your own anxiety, sadness, guilt, shame, etc., by starting a regular mindful meditation practice. The app Headspace is a great place to start, with meditations that vary from three to ten minutes. Just like you need to put on your own oxygen mask before your child's on an airplane, in life you also need to be okay first in order to be there for your child.

Sit down with your child and spend at least 10 minutes just providing empathy and support. Stop trying to figure out what is wrong, why she's so worried, or how to fix it, and just listen. Really listen, like you've never listened before. Get on her level literally, by sitting or even laying down so that you're at eye level with her. Tell her that you want to hear whatever is on her mind, and let whatever comes out of her mouth really sink into your heart. Do not offer any advice, suggestions, or help of any kind now, just listen and then express how hard it must be for her to be feeling this way. Try to really put yourself in her shoes and feel what she is feeling. Let her know that you are here for her and that she can tell you whatever she wants without any judgement, and really mean it. Do this daily with your child at a certain time of day, like after school or in the evening. This is your special one-on-one time that is all about her. Let her direct the conversation or other activity if she doesn't want to talk. The point is that she takes the lead, and you only provide empathy, support, and praise.

Let her pick out a journal or notebook to write about her anxiety, and any other feelings she's having. Tell her that she can share them with you or others if she'd like, but you will never make her share what she writes. There may be some things that she isn't ready to share with you, or anyone, yet, and that's okay. What's not okay is keeping it all inside. She needs an outlet to get her thoughts and feelings out of her mind. If writing isn't her thing, give her art supplies and let her express herself through any means that she'd like.

Meditate with your child every day. There are great meditations for children ages five to12 on the Headspace app. Let her pick which one she'd like to do, and for how long. If she'd prefer to do it on her own, let her.

Create a reward plan to incentivize her to meditate, as well as doing other healthy coping behaviors. Other behaviors can include writing in her journal, talking about her feelings, taking a bath, going for a walk, and taking on small challenges to push beyond her comfort zone. The key here is to help her come up with a list of ideas, but do not force her to do any of them. With a solid reward plan she will be motivated to do things that are difficult; however, be careful not to make the challenges too hard at first. In order to build her confidence and reduce her anxiety, she needs to face her fear gradually.
If you have tried these strategies on multiple days and in multiple ways and still nothing is working, or if you feel like you'd prefer to have some guidance along the way, find a therapist who specializes in anxiety and does Cognitive Behavioral Therapy (CBT). CBT will help your child learn to recognize and challenge her distorted thinking (cognitions), and develop healthy behaviors to work through her anxiety and face her fears.