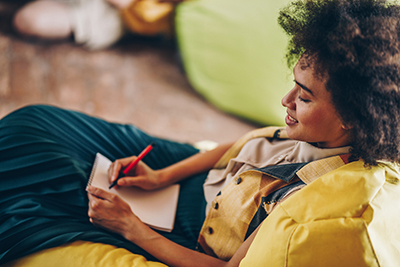 Many studies over the past several years have shown that practicing gratitude can improve our mental health, and this applies to both people with mental illnesses such as anxiety or depression, and those without. Gratitude practices include writing in a journal about what you are grateful for each day and writing letters to people you appreciate in your life.
One gratitude practice that many of the people who've taken one of my mindfulness courses mention as particularly helpful is the GLAD technique. This simple activity gives some structure to a daily gratitude journal by offering four areas to be thankful for each day, using each of the letters in the word glad.
G –  One thing that you're Grateful for today
This can be the most basic gratitude, such as having food and water, sunlight, a body that works well enough, a roof over your head, etc. Your gratitude could also be about appreciating significant things in your life, such as an important relationship, meaningful work, a caring friend, or good health.
L – One thing you Learned today
This can be something you learned about yourself, such as noticing an insight or wisdom you possess. It could also mean discovering something new and interesting about another person, learning a new fact, or gaining a new perspective on something.
A – One small Accomplishment you had today
This can be an ordinary act of self-care that you did for yourself or another person, such as getting enough sleep, getting dressed, getting enough to eat, or doing anything that moves you towards reaching a long-term goal.
D – One thing of Delight that touched you today
Consider anything that made you laugh, smile, or brought you a bit of joy. This can be a thing of beauty that you notice during the day, such as hearing a bird chirping, seeing a colorful flower, tasting a food you enjoy, or noticing the pleasant smell of the soap while washing your hands.
Use a journal, notebook, or your phone to keep track of the GLAD items that you notice each day.  Try to do this every day for the next week.  Notice how you feel after you've completed this daily practice, and how you feel at the end of the week.  You may feel a bit better each day, but it could take several weeks before you notice a significant difference.  Try to keep the practice up whether or not you are seeing changes. It only takes a couple of minutes every day, and you can do it right before or after your daily meditation practice so that it becomes a great self-care morning or evening routine!