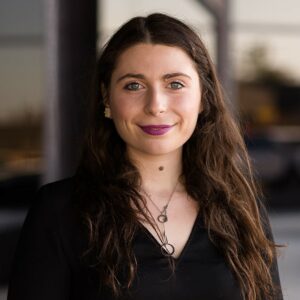 Elena earned a Bachelor's degree in psychology and is currently earning her Master's of Arts degree in clinical psychology from Southern Illinois University Edwardsville. She is originally from Rome, Italy, but she moved to the United States to complete her higher education. Elena is a clinical intern under the supervision of Amanda Fondow, MA, LPC, R-DMT.
She uses an integrative approach, with a focus on several approaches such as Cognitive Behavioral Therapy, Client-Centered Therapy, Existential Psychology, and Mindfulness.
Elena takes a holistic approach to mental health, working with adults and adolescents to help them understand the connection between mind, body, and spirit and to use that awareness to achieve one's goals, and ultimately fulfillment. She believes that the way we think and feel affects our reality, and how we interpret reality affects our thoughts and feelings. She believes that people inherently have the power within themselves to change, grow, and heal. By healing and doing the internal work, people can also improve the reality around them.
She is a strong believer in mindfulness techniques and incorporates them in her practice and in her own life. Mindfulness is focusing on the present moment while not getting caught up in the noise that sometimes life can bring. It is being consciously aware of ourselves, our bodies and minds, our intentions and actions, and living life with purpose and presence. She believes that mindfulness practices and techniques, especially meditation, are the first step to empowerment and self-discovery. Elena wants you to know that learning to apply mindfulness techniques to our lives may not always be easy, but we definitely have more power than we think and it is worth it. Once we witness for ourselves the healing power of mindfulness, it will become easier to make mindfulness techniques part of our daily life.
Elena implemented a mindfulness program called Compassionate Approach to Learning Meditation, or CALM, to adolescents in Madison County Juvenile Detention Center. She has been teaching a similar program to children and adolescents in foster care. She also has been involved in scientific research, through her university, to understand how mindfulness impacts us and how its practice can help us overcome challenges and heal. Her goal is to introduce and bring people closer to mindfulness practices to help them realize that they too can create their own reality.
Elena is particularly interested in treating adults and teens with depression, anxiety and phobias, bipolarity, trauma, grief, emotional distress, job dissatisfaction, and other stressful experiences that one may be struggling with. She is also very interested in helping teens and adults in their search for purpose and meaning.
Because she is an intern Elena does not directly charge for her services, and therefore the center is able to offer these services for a lower fee. To schedule an appointment with Elena please contact our Client Care Coordinator, Andrea Harpster, at andrea@mindfulstl.com or 314-561-9757 option 1.