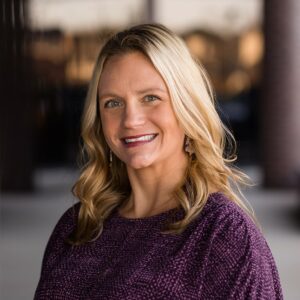 Katie is a Licensed Professional Counselor (LPC) and a National Academy of Sports Medicine (NASM) Certified Personal Trainer (CPT). She received a Bachelor of Science degree in Dietetics from Bradley University and a Master of Arts Degree in Professional Counseling from Lindenwood University. She provides therapy to adolescents and adults in both individual and group settings.
Katie uses her education and experience in the fields of nutrition, exercise, and therapy to bring a holistic approach to her practice. She firmly believes in the mind-body connection, and the fact that the two should be treated as one entity. She provides tailored treatment plans designed to strengthen the person as a whole.
Prior to joining The Center for Mindfulness & CBT, Katie worked as a therapist for McCallum Place Eating Disorder Treatment Center. While at McCallum she worked for their Victory Program; a specialized program designed specifically for athletes struggling with eating disorders. There she was able to combine her personal training and therapy professions, both of which she holds a true passion for. Katie helped individuals identify distorted thoughts and maladaptive behaviors, and worked with them to establish a healthier relationship with nutrition and fitness.
In addition to specializing in eating disorders, Katie also treats survivors of trauma, addictions, OCD, anxiety, depression, postpartum depression, bipolar disorder, and a variety of personality disorders. She responds to the client's specific needs and incorporates a combination of theories into her practice including CBT, DBT, Mindfulness, and a Psychodynamic approach.
Katie is in-network with Anthem and United Healthcare. Please contact our Client Care Coordinator, Andrea Harpster, at andrea@mindfulstl.com or 314-561-9757 option 1 to see if Katie is currently accepting new clients.