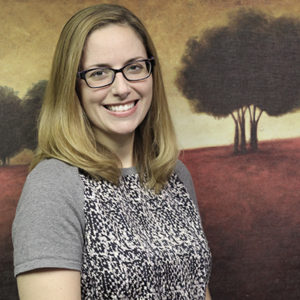 Dr. Buday received her B.A. in psychology from Washington University and her Ph.D. from UMSL.  She completed her APA approved doctoral internship at the University of Oklahoma Health Sciences Center, where she provided individual and group therapy to veterans at the Oklahoma City VA and worked as part of interdisciplinary care teams at OU Children's Hospital.  Dr. Buday's APA approved postdoctoral fellowship was in Primary Care Mental Health Integration at the St. Louis VA Medical Center.  As part of the primary care team, she worked with medical staff to provide individualized and compassionate care to veterans.  She also has experience providing Cognitive Processing Therapy and Prolonged Exposure to veterans experiencing post-traumatic stress.  As a staff psychologist at Community Psychological Service, she provides comprehensive assessments for a wide range of presenting concerns, including diagnostic clarification referrals from other mental health providers.
Dr. Buday is a licensed clinical psychologist who treats older adolescents and adults.  She provides evidence-based treatments, such as Cognitive-Behavioral Therapy and Acceptance and Commitment Therapy, to treat anxiety and mood disorders.  Dr. Buday's interests include working with those coping with physical health and medical problems, including infertility and pain, and the LGBTQ population.
Dr. Buday is currently in network with Aetna, Anthem BCBS, Cigna, United Healthcare and Medicare.  To make an appointment, call 314-561-9757 x703.