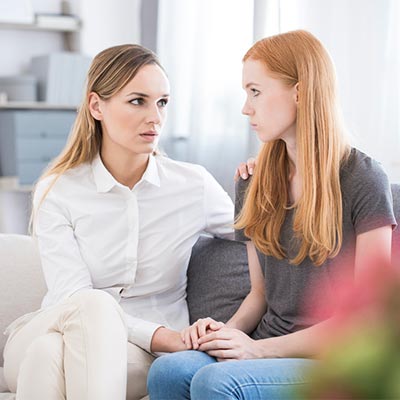 By Katie S. Frauenfelder, MA, PLPC, NASM CPT
Earlier this week news broke that Dr. Jeremy Richman, father of 6-year old Sandy Hook shooting victim Avielle Richman, died by suicide. Richman's death comes less than a week after Parkland shooting survivors Sydney Aiello and Calvin Desir both died by suicide.
While it is uncertain as to whether these suicides were related to the mass shootings of Sandy Hook and Parkland, it does bring light to the effects trauma can have on survivors. It is also important to remember that trauma victims are just part of the population at risk for suicide, and that no one person is immune.
One such population specifically on the rise is teenagers. There are many factors that contribute to this, but it is important to know that regardless, teen suicide is preventable. As a parent, it is crucial that you are able to identify risk factors and warning signs.
Risk Factors Include:
Having a mental illness
History of physical, emotional, or sexual abuse
Substance abuse
Having a medical issue
Bullying
Loss of loved one
Dissolution of a relationship or friendship
Confusion surrounding sexuality or sexual orientation
Family history of mental illness or suicide
Warning Signs Include:
Talking about suicide
Withdrawing from social situations
Hostility and aggression
Losing interest in things once loved
Mood swings
Feeling hopeless or worthless
Change in normal routine, including sleeping or eating patterns
Engaging in risky or self-destructive behaviors
Giving away prized possessions
Increased use of alcohol and/or drugs
As a parent, there are steps you can take to protect your teen. Here are some examples and suggestions:

Communicate. Ask your teen to talk to you about his/her feelings and struggles, and truly listen.
Don't be dismissive of your teen's problems. When your teen reports a problem, reassure him/her of your love, and that you are there to help in any way you can.
Seek the help of a professional. Whether that be a doctor, psychiatrist, or therapist, it is important your child is seen by an expert in the field of mental health.
Discourage isolation. Encourage your teen to engage and spend time with loved ones.
Promote a healthy lifestyle. Be a role model for your teen in terms of living a healthy, balanced life. If your child sees you engaging in good-for-you habits, he or she will be more likely to follow suit.
If you see something, say something. If you notice your child acting differently than normal, don't wait for him/her to approach you. Ask your teen what is wrong, and offer your help.
If you or a loved one needs immediate help, call 911, your local emergency number, or a suicide hotline number such as the National Suicide Prevention Lifeline at 800-273-TALK (800-273-8255).