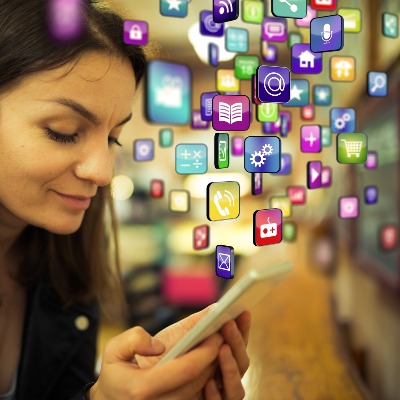 By Laura Chackes, Psy.D.
I posed this question to our team of 16 therapists, and I will be sharing our responses over the next few weeks. In this age when no one carries pen and paper but almost everyone can connect to the internet within seconds, apps have become necessary therapeutic tools. I have many favorite apps that I recommend to patients and use myself, but for the sake of brevity and to allow others to share theirs as well, I will limit this post to my top three.
Headspace
I have often wondered if my clients think that I get a kickback from Headspace because I recommend it so often, and lately I wish I did. I use this app personally every day, or at least as close to daily as I can. I have tried many mindfulness apps, and I like several of them a lot; however, I always come back to Headspace for many reasons. First and most importantly, Headspace stays true to what mindfulness really is, rather than what many think it is or want it to be. Many mindfulness apps focus on relaxation, which is really more like a side effect of mindfulness, while Headspace focuses on awareness and acceptance. Secondly, Headspace does an excellent job of explaining in simple, understandable ways, what mindfulness is and how to practice it. It uses short animations to demonstrate many of the even more complex facets of mindfulness. Finally, the breadth of content in Headspace is truly amazing. I have logged over 1500 minutes of meditation on this app, and have never gotten bored or come close to running out of new content. I also use the app with my children, as they have specific meditations broken down by age group for those under 12.
Daylio
This is a free journaling app for kids, which includes many great features that have really helped many of my young clients. When you click to add an entry it asks, "How are you?" and gives the options "rad, good, meh, bad, and awful." Then it asks, "What have you been up to?" and gives many options such as work, friends, gaming, sport, etc., and gives you the option to add any other activity. Then there's a blank space for notes, which you can leave blank if you just want to use this as a mood tracking app, or you can write as much as you'd like. After you've logged several entries the fun begins! You can look at many stats such as how many days in a row you've logged, your monthly mood chart, a count of how many times you've felt each mood, and an activity count of each activity you listed. You can set reminders to check in with yourself at a certain time, which is a great way to bring your attention to how you're feeling. I've had kids who were very surprised at their stats because they were either more or less sad than they realized. Just the simple act of checking in on one's mood is a very powerful tool, and the linking of mood to activity is also extremely helpful for both the child and therapist.
SkinPick
This is another free tracking app but is specific to skin picking. One of the best ways to change any behavior is to track it, and that is especially true for Body Focused Repetitive Behaviors (BFRBs) like hair pulling and skin picking. One of the biggest challenges my clients with BFRBs have is keeping track of their behaviors. Similar to what I said about the Daylio app, tracking brings awareness, which is a crucial piece of halting or reducing BFRBs. Many people do not realize that they are picking until after they have started, and some will pick for hours without much awareness of what they're doing. Tracking the picking, urges, associated feelings and thoughts can greatly increase awareness in the long run. Even if an episode doesn't get logged until after it's complete, the logging can be extremely helpful in understanding what triggered that episode, which can help make changes to reduce future picking. SkinPick identifies the important aspects that we want clients to track, such as time, situation (what were you doing prior to or while picking), intensity of urge, thoughts and feelings during the urge, how long picked, and thoughts and feelings after picking. The app makes logging these things quick and easy, making my clients much more likely to track. Furthermore, this app allows you to send data as a PDF report to a recipient of your choice, such as your therapist!
In the coming weeks, you will hear from other therapists at The Center for Mindfulness & CBT about each of their favorite apps and why they love them. Subscribe below to receive this weekly blog to your email so you won't miss any posts.