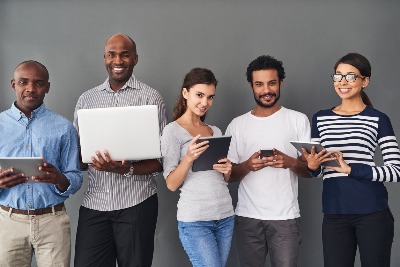 Apps I Recommend As Therapeutic Tools
There are a LOT of apps out there to help you on your therapeutic journey. While I am still happy to give my clients good old-fashioned paper, I find that most of us prefer to use our phones or tablets. Not only is that often preferred , but the processing we can do in the moment can be more beneficial than waiting to write things down. Here are a few apps that are reliable, easy-to-use, and come with a seal of approval from me!
For anxiety…
FearTools is my go-to recommendation for clients with anxiety. It's available on iOS and Android platforms and it's FREE. This is the perfect tool for completing thought logs that are commonly used in cognitive behavioral therapy (CBT). Using the Thought Diary, users can log events, easily note emotions experienced, rate anxiety level, explain the situation and unhelpful thoughts, challenge those unhelpful thoughts, and explore alternative thoughts. My favorite part is the pull down menu of cognitive distortions and a little help button that explains them all. After you finish logging, users have the opportunity to rate anxiety again. Aside from the thought diary, users can track exposures, link to helpful videos, and take an anxiety assessment (with the same tool I use in the office). There's also a fun breathing piece that you can customize in so many ways to make it helpful to you. This app has it all! 
For depression…
MoodTools is my top choice for clients with depression. As you might have guessed by the name, it's from the same folks that developed MoodTools. The Thought Diary concept is the same, except instead of anxiety, users track their distress levels. Again, there are helpful videos to link to and a test. MoodTools allows users to also log activities (staying active really helps your mood and the app will offer suggestions and allow you to track your mood change here as well). Lastly, there is a Safety Plan section. Here, you can put in your favorite coping strategies, contacts, and other important information that will help when your feeling really low.
For OCD…
nOCD is one of the most capable apps I have ever seen. Ever. For anything. It was created by someone with OCD (and a team of very qualified people in the field), so it has real ways to help. There's an SOS button to get you through! You can even share data with your therapist (or whomever else you want to share your data with). I'm linking you to a short video that will explain it better than I ever could.
Here's a link to an interview with the co-developer about his struggle with OCD and the story of the app's development:  This is a great interview and I recommend watching it to anyone with OCD (and exploring the rest of the website too, because it's pretty cool).
Right now, the app is only available for iOS, but Android release is anticipated in September 2018. For now, it is free. 
Multi-Symptom Help…
What's Up? can help address depression, anxiety, self-esteem, anger, and stress using cognitive behavioral therapy (CBT) and acceptance and commitment therapy (ACT) tools . I love the design of this app and the small words of encouragement embedded throughout. Inside the app, there are a multitude of useful tools in an easy-to-understand format. There is a diary function and a place to note your positive and negative habits, which is a feature unique to this app. It's available for iOS and Android and is free.
Time to chill…
There are a LOT of relaxation and meditation apps out there. You may already have one that you love (I'd love to hear about it in the comments!). This one is perhaps a little more off the beaten path from the "big ones." Stop Breathe Think starts by simply asking "How are you?" But before it you answer, it encourages you to take a deep breath and think about how you feel. You will then be guided through some questions about how you are physically, mentally, and emotionally. Then you'll receive some results that recommend some things you can do to help… maybe you're feeling "meh." You'll get recommendations for meditations, grounding exercises, and breathing exercises that focus on helping you be more than meh. Already feeling good? You'll still get recommendations that will help you maintain that sunny disposition.
Another app I've found that is pretty cool is called RelaxMelodies. This app allows you to build your own sleepy-time or meditation soundtrack using buttons with sounds such as birds, rain, waves, and the other usual suspects of relaxing sounds. It is free with option to upgrade to a paid pro version and available for iOS and Android. It's fun and nice to be able to create your own relaxation soundtrack.