One hair-puller's journey to self-acceptance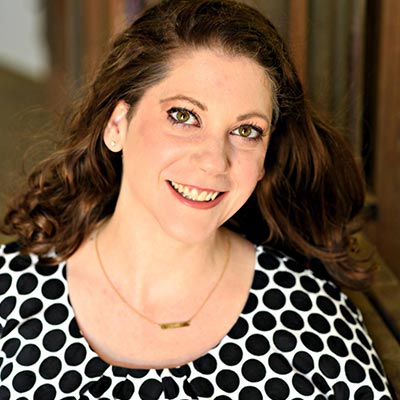 by Beth Salmo, M.S., LPC, NCC
Let's play a round of "I Spy", shall we?
I spy a stretchy object skinnier than a human egg cell, that is stronger than a copper wire, which can identify both a victim and a murderer, gets lost 50-150 times daily per person, and generally expires after about 5 years.
The object I spy is one of my hairs, and it's in my hand because I pulled it out. Intentionally. Impulsively. Because it felt good and I've done it since I was 4, and I'm anxious right now. I can tell before I pluck it what it will look like, if it will have a "bulb" on the bottom or not, and what color, size, shape, and pattern it will be.
And no, I am not a trichologist. "This woman is a little off!", you may be thinking at this point. Or, a strong adjective may be used to describe me based on this information. I'm ok with that. I've had over three decades to learn all about trichotillomania and the depression and PTSD that have fed it since before I could read without assistance.
What may surprise you more is to learn that I am a licensed therapist. Yup, a bonafide someone-gave-me-a-degree-and-a-license-to-practice mental health therapist. I pull out my eyelashes, eyebrows, and scalp hairs, and have for over 31 years. It started with the lashes, then brows, and then scalp.
As I write, I have a bald spot on my head growing back to the point you almost can't see it was there; practically no eyebrows; and eyelashes with big gaps in between. I am blessed by long, thick, curly hair – and an unhealthy addiction to cosmetics including brow pencils, liner, and mascara – so I've been able to conceal my compulsive behavior for much of my life. Yet I still go to bed and wake up with it daily.
I started pulling when my dad, whom I was very close with, had to have brain surgery when I was 4 years old. I didn't understand why they were taking things out of his head, and why those things were dangerous, but it was super scary so I pulled my hair out (they had to shave his head for surgery). I found it felt really good tactically, but I knew it was wrong. All the adults in my life talked about how gorgeous my lashes were, so to pull them out had to be the work of the devil. But it alleviated my anxiety, and then if I pulled a disproportionate amount out of one eye, I had to even it out with the other (which, without tweezers, is a game of Russian Roulette), so you can see how this game progressed.
My world really started to unravel when I was about 8 and my mom noticed in the JCPenney dressing room that I had no eyelashes. It hit her like a ton of bricks. I didn't stop this distressing behavior even after being "outed". Enter shaming, bullying, and puberty, and you have the perfect recipe for super high anxiety and exacerbated eyelash plucking. I ran out, so I had to move on to eyebrows, and then scalp hair.
Around age 12 I saw an Oprah program about Marc Summers and his OCD. I realized then what was really going on, and I was determined to really work at stopping these embarrassing behaviors. Throughout my adolescence, I struggled with depression and anxiety, all while plucking and doing OCD rituals. I was mostly a loner and didn't use much makeup, nor did I know how to maximize its abilities or style my hair. Low self-worth became a huge part of my identity and while I did well academically, I floundered socially. I didn't think I'd ever feel joyful again.
I graduated high school early and went straight into working; got married at 19 and divorced at 23; and decided to go to college while working full-time. I experienced traumatic events during my twenties and lost my father who succumbed to his brain diseases when I was 26. Upon his passing, I decided to become a therapist.
So, at 28, I enrolled in grad school. I graduated in May 2015 with a new tool belt full of ways to help people who struggled like me. I had intensive individual therapy and knew everything. Yet still, I was consumed with this nagging feeling that I was a fraud. How can I help people with trich and mental illness when I myself have contemplated suicide, have made suicidal gestures like drinking alcohol with more pills than I'm supposed to really take, and when I look like Lord Voldemort without makeup on?
I worked hard throughout grad school and after, with my clinical supervisor Paul, to explore these concerns. It turns out, people with mental health issues can actually be really awesome therapists! We understand what it feels like to constantly be looking for "happiness" (in quotes because happiness is not what many want it to be, a topic for another day); to want to take any measure possible to make the pain go away; to agonize for hours a day about your appearance and then feel guilty about that perceived vanity.
It's been 4 years since I became a newly minted therapist and I still sometimes question my efficacy. But then the teen with the severe trauma history paints me a picture and says how wonderful I am; the young woman with chronic, debilitating illness smiles and laughs for the first time in a week; and the man who has been riddled with terrifying memories of combat has an aha! moment when he realizes someone "gets it".
Remember, feelings are not always truthful. You may feel ugly; you may feel incapable; you may feel stupid or fat or any other number of unsavory things… but that doesn't mean you are. Change your thoughts, choose a different behavior, change your life. In my case, that means I still pull my hair out, but I no longer let it define me. Trich is a part of me, but it no longer has to be my brooding, gothic identity. I can integrate it into my practice, to help foster empathy.
Whereas I used to spy a little girl who felt worthless and terrified her daddy would die, I now see a 30-something whose father passed nearly a decade ago, yet she is still able to function and help others along the way. I spy something that requires bravery, belongs to most children, is invisible, moves mountains, and starts with the letter "R". That, my friends, is what we call resilience and being absolutely fabulous.
How can you be fabulous today?
Beth Salmo works actively as a mental health therapist and is a St. Louis native. In her free time, she enjoys time with her boyfriend in southern IL; exploring the country and outdoors; and visiting with family. Beth loves animals and enjoys spending time with her 11 year-old Maine Coon, Clover Lily, and adolescent cat with cerebellar hypoplasia, Poppy Rose. Beth hopes to open a part-time private practice supporting veterans, law enforcement professionals, and first responders, as well as fostering and bottle-feeding kittens soon.