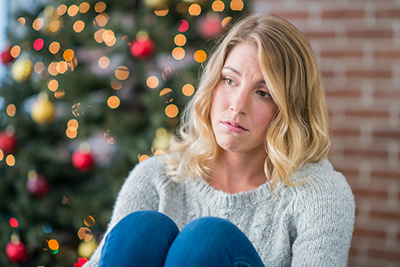 By Katie S. Frauenfelder MA, PLPC, NASM CPT
It's the time of year many of us look forward to. The holiday season is often synonymous with Ugly Christmas Sweater parties, baking Christmas cookies, and big feasts with family. But what if you're one of the roughly 200,000 people who suffer from an eating disorder? For those people, the month many of us love can be a complete nightmare full of stress, anxiety, and fear.
The food-centered nature of the holidays combined with the stress of socializing with family members, draining your bank account to buy your loved ones that "perfect" gift, and rushing from one event to the other can intensify sufferers desire to act out on ED behaviors. Even those who are in recovery can be susceptible to a lapse or relapse this time of year, often striking without much warning. 
With that being said, here are some tips and guidelines designed to help those with eating disorders stay on that road to recovery!
1. Don't over-commit. As soon as the month of December hits, so do the work parties, family gatherings, and get togethers with friends. Choose to attend the events that feel most comfortable for you. Ask yourself if it is something you truly want to attend. If you think it might be too overwhelming or cause too much stress/anxiety, it is more than ok not to go. This can also be a great time to work on practicing self-care and advocating for yourself by saying "no".
2. Stick to your regular eating routine. If you are on a meal plan, do your best to follow it, but allow yourself flexibility. There are going to be times over this next month where pre-planning a meal is not an option. This can be a great exposure to what typical life will look like when your ED has been kicked to the curb!
3. There is no such thing as "deserving" to eat. It's the time of year many people, not only those with eating disorders, think "I'm going to a big party tonight with lots of food. I'm just going to skip breakfast and have a light lunch." or "I really need to hit the gym if I'm going to eat all of those treats!" This can often lead to acting out on behaviors later. You don't need to punish yourself in order to indulge a little.
4. Establish a trusted network. Whether it be family, friends, or a provider, asking for support is often a crucial part of the recovery process. Plan ahead and don't be afraid to reach out to those trusted individuals during challenging times.
5. Remember your coping skills. Whether it's reading, meditating, or spending some time on your hobbies, the stressors this season brings with it can be the perfect opportunity to practice utilizing them.
6. Give yourself some compassion. Remember that a lapse doesn't have to turn into a relapse, and making mistakes is just part of being human. There is also no perfect road to recovery. It is often not linear, and instead consists of many twists, turns, and hills to climb. However, regardless of how long it takes to get there, you are so worth it. 
Happy Holidays!