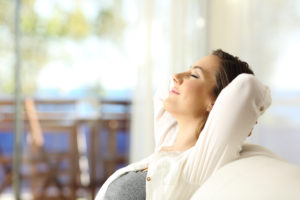 Everyone experiences stress at times. In fact, stress itself is not a problem. It's our reactions to stress that can be problematic. When we let little stressors build up and do not deal with them, they can become overwhelming and seem impossible to handle. It's at this point that stress can lead to anger, depression, anxiety, or other emotional issues. Furthermore, when stress becomes chronic, it can lead to physical problems such as high blood pressure and heart disease. By using these simple tips, you can help prevent stress from becoming a problem in your life.
Stay organized.

A major cause of stress is disorganization in one's home and life. In order to reduce this type of stress, it is helpful to implement systems such as putting clothes and other items that you do not wear regularly in storage bins, filing paperwork in file cabinets, and using planners or even the calendar on your phone to keep your schedule organized.

Find a balance between work and play.

If you spend too much time working or doing things that you feel like you "need" to do, you will inevitably feel overwhelmed or unhappy. On the other hand, if you only do what you feel like doing in the moment, your responsibilities will build up and then become unmanageable. Finding a balance means prioritizing the things that are most important in your life, and scheduling time for them. If spending time with your family is more important to you than having a clean house, yet you are spending all of your free time cleaning, then you have not found balance. Make the most time for what matters most to you, and then schedule other chores around those.

Be grateful for what you have.

Much research has found that gratitude can increase happiness and decrease stress. Rather than focusing on all of the things that are going wrong in your life, focus on the things that are going right for you. Even if it is just one small thing, like a hot cup of coffee on a cold day that you are appreciative of, by directing your attention toward these things you will start to feel better.

Meditate daily.

There is a tremendous body of literature demonstrating the effectiveness of mindful meditation in reducing stress and improving wellbeing. Take a mindfulness class to learn what mindful meditation really is and start a regular practice. The research on mindfulness' effectiveness is based on those who have taken an 8-week mindfulness course and meditate daily.

Get support and/or guidance from a friend, family member, or professional. Often talking about what is stressing you out with a loved one helps to significantly reduce your level of stress. Sometimes just having someone hear you out is enough to diffuse the stress, other times you may need some advice about how to handle things in a different way. If you don't have someone in your life who you feel comfortable talking about your stressors with, or if support from loved ones hasn't helped, seeking out a therapist can be a major help.