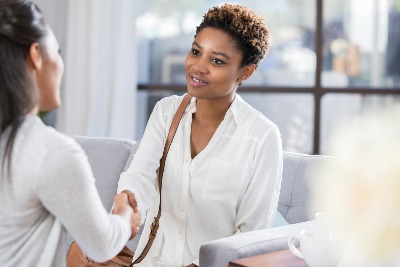 By Lauri Shedd, MSW, LMSW
My previous post covered finding and selecting a therapist through making the first appointment. You've scheduled your first appointment — now what? Chances are you have mixed emotions. Maybe you're nervous? Anxious? Exited? Scared? All of these and more? This post should help demystify that first appointment.
You'll want to arrive for your first appointment 10-15 minutes early so you have time to scope out the parking situation, find the office, maybe use the restroom, and see how the office handles the check-in process. Some offices have receptionists and others do not. My office does not. Instead, you will ring the bell in the waiting area and wait for me to come get you. There are lots of magazines to choose from in the waiting area as well as flyers for upcoming groups and other things of interest.
In my office, you can sit on a comfy couch or in a chair. I have a box of 'fidgets' to play with in case you're nervous or just like to do something with your hands while we talk. There are tissues by the couch and I can give you a pen and paper if you need to write something down. Feel free to bring something to drink. I usually start by asking you, "What brings you here?" or "How can I help?" Once you have had a chance to tell me about your problem, I will review your intake packet and answer any questions about policies. I will also review your medications, symptoms, past treatment history, and goals.
I write lots of notes! I'm usually writing down pertinent information you tell me so that I remember it for later. You can always ask to see my notes during session.
I might ask you to complete an assessment (or two!) to help me with your treatment. I have assessments that I frequently use for anxiety, depression, OCD, and social anxiety. Not only will these help me come up with a treatment plan based on the severity of your symptoms, but an assessment can also help us track progress as we proceed and continue with treatment. Your initial assessments can serve as a baseline against which we measure progress or regression.
Usual weekly sessions last 50 minutes, but first sessions last from 60-90 minutes. This extra time allows us to get to know each other and build rapport.
If you decide that you wish to continue on with the therapist, you will be asked to book your next appointment. Your next appointment will typically be scheduled at a time you will be able to make on a weekly basis. Most patients come once weekly in the beginning, though some come more often. The time you schedule will be yours until a change is required. For example, if you sign up for 11:00 on Thursday mornings, that is your slot. I will not book anyone else at that time, so it is important to choose a time you can make regularly.
Most folks choose to use a credit or debit card for payment. If that's your choice, your card information will be stored on a secure server and you will be charged at each visit. This is a very convenient option and what most patients prefer. If you are paying with cash or check, I ask that you give me your payment at the beginning of each session. However you pay, a receipt will be emailed to you. To access your receipts or a statement, you will need to create a secure account. I will give you a login and temporary password at the first session so you will have access if you choose to utilize this feature. Some therapists allow patients to schedule appointments this way as well, however, I am not offering this option yet.
First sessions tend to fly by for both patient and therapist! Any nervousness you had coming in has probably subsided by the end. I've been told it feels like "a new beginning" or "a second chance." Many people feel optimistic or at least cautiously optimistic, but even if you feel a little pessimistic – that's ok. In the next session, I will likely have some treatment approaches to discuss with you and together we will come up with a plan to get you on the path to wellness.
This is the second in a two-part series. To get new articles delivered to your email inbox, subscribe here and never miss a post from The Center for Mindfulness & CBT.